ROSA FAST5 Fumonisin Quantitative Test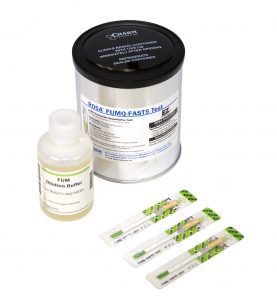 The ROSA FAST5 Fumonisin Quantitative Test enables grain and feed producers to quantitatively detect fumonisin in a five minute assay. This Rapid One Step Assay is a quantitative lateral flow test that is read in the Charm EZ-M system or the ROSA-M Reader. Samples are extracted with 70% methanol.
The ROSA FUMQ-FAST5 test has been validated by Charm for the following additional commodities:
Barley
Corn
Corn Germ Meal
Corn Gluten Meal
Distillers Dried Grains with Solubles
Flaking Corn Grits
Millet
Oat Groats
Rough Rice
Sorghum
Wheat
Benefits
Quantitative results in five minutes
Charm approved for eleven commodities
Quantitation range is 0.5 to 1.5 ppm for the first dilution, 1 to 5.4 ppm for the second dilution, and greater than 5 ppm with supplemental dilution
Extract sample with 70% methanol
Uses same equipment as other ROSA grain tests
The FUMQ-FAST5 Test is easily read on:
Have a sales question? Send us a message and a sales representative will contact you.