The Striking Ascent of Ready-to-Drink Coffee Beverages
This blog post is a 18 minute read
If there is a time for ready-to-drink (RTD) coffee beverages, it is now. Not only supermarkets but also convenience stores, quick-service restaurants, and even gas stations are stocking many new varieties of RTD drinks. The potential growth for these products is enormous. Most dairy manufacturers now incorporate long-shelf-life UHT/ESL packaged RTD coffee beverages into their product lines. The choice of enticing flavors is rapidly expanding along with the increasing use of plant-based creamers.
Reasons for RTD Coffee Growth
Some might wonder what is causing this explosion in RTD beverage consumption. Several factors have combined to create this vibrant market. There is a global trend toward increased urbanization, and along with this comes lifestyles that are only getting busier. Demanding work schedules involving long, wearying hours pin people down. They do not always have the opportunity to brew their own coffee and what better way to get a quick afternoon pick-me-up than to consume a flavorful RTD coffee drink. In the global marketplace, the media perception of trendy "café culture" where people connect with a shared beguiling coffee-drinking experience adds to the appeal. The immediate consumption works best with single-serve products at beverage coolers but gives those at home the option of multi-serve product usage. To meet this need, RTD manufacturers are experimenting with many different appealing and even exotic flavors. Marketers of RTD coffee beverages strategically promote these products as healthy alternatives to soda and energy drinks. Adding to their appeal are attractive packaging presentations. Skillful product positioning, including their placement on shelves, can also have a positive effect on sales.
Varieties of RTD Coffee
There are different directions a consumer can take when deciding which RTD beverages to consume. One division is between cappuccino/iced coffee on one hand and cold brew on the other that includes shelf-stable and perishable refrigerated items. For someone desiring more of a boost, there are chilled espresso beverages. Those who are health-conscious can opt for low calorie, low sugar iced coffee alternatives. For people who do not use dairy products, there is RTD coffee with plant-based dairy alternatives, including those that are cereal-based, legume-based, nut-based, seed-based, and pseudo-cereal-based. One of the cereal-based options is oat milk, which is now a popular plant-based alternative due to its neutral taste, health benefits, and high sustainability. The list of flavors is growing and includes among others classic latte, caramel latte, coffee mocha, pumpkin spiced latte, black Americano, and floral flavors.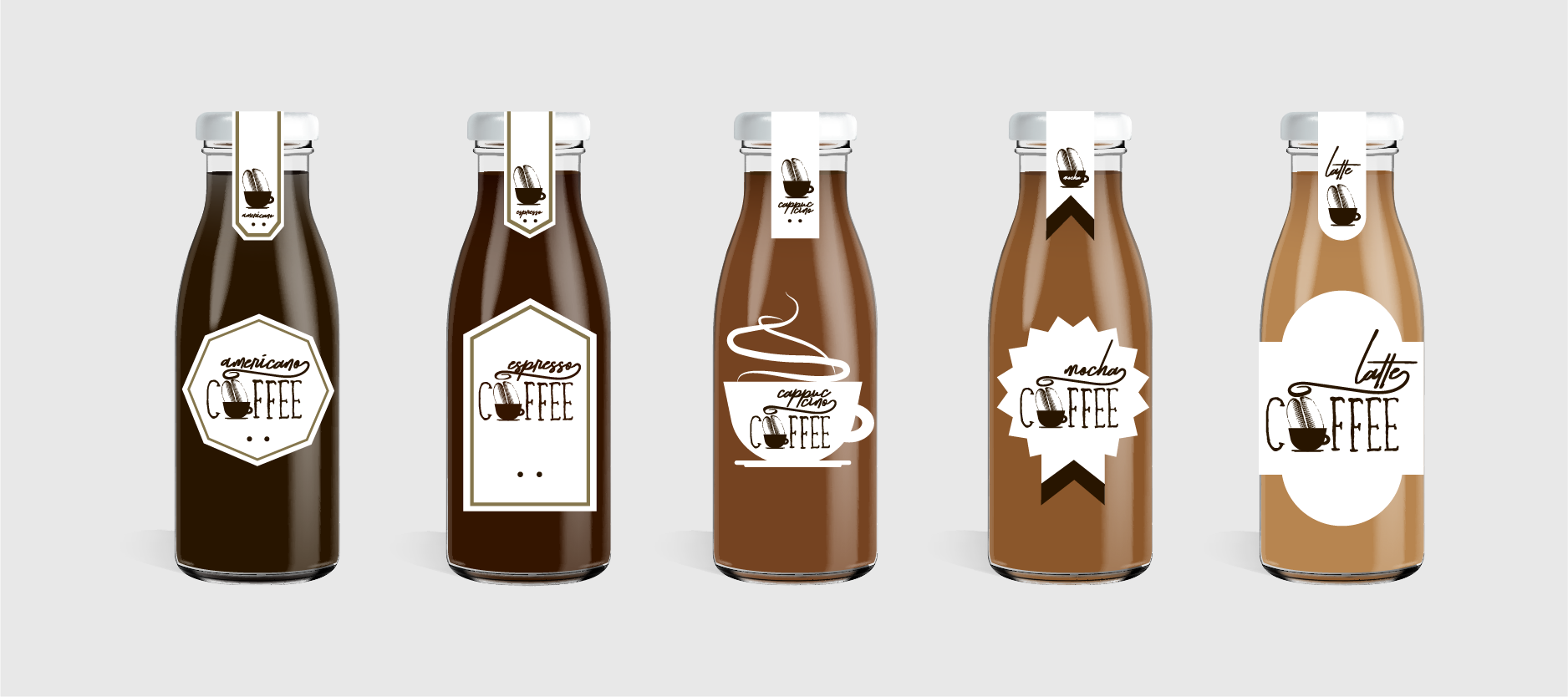 Statistics Tell the Story
Statistics tell a meaningful story when it comes to the trajectory of RTD coffee beverages. The worldwide RTD coffee market volume was USD 19.05 billion in 2017 and is expected to hit USD 36.60 billion by the end of 2025, which demonstrates a Compound Annual Growth Rate (CAGR) of 8.5 percent. Based on data from Nielsen, sales of RTD coffee products in the U.S. increased by 16% in just one year.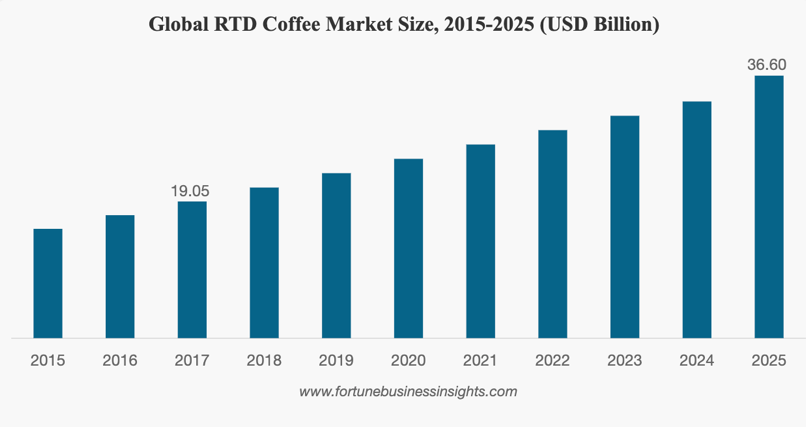 Distributors have experienced a 30 to 40 percent growth in RTD coffee for the first quarter of 2019, particularly with national brands. Going back one year from September 2019, 158 new RTD varieties, representing a 37% increase, have been delivered to stores, which include 30 iced coffee flavors and 89 new cold brews. One demographic that is propelling this boom is younger people in the 18 to 39 year age group. In fact, the National Coffee Association is now including in its marketing analysis people as young as 13. Statistics are available for the biggest brands and the trending RTD coffee brands, both cappuccino/iced coffee and cold brew.
Regional Breakdown
The regional breakdown for RTD coffee beverages offers valuable information to marketers. For example, in the years from 2018 to 2025, the Asia-Pacific region will be the fastest-growing market for these products. Japan has been a major leader in dominating the Asia-Pacific RTD coffee market, but due to its move to freshly-brewed specialty coffee, China is now primed to take over the dominating role in the region. The increasing popularity of cold brew in the United States and Canada has spurred the North American RTD coffee market. The European RTD market is now in the process of catching up with the other regions as consumers there are enjoying quick coffee while they are on-the-go.
RTD Beverage Marketing Trends
In a larger sense, the greater popularity of RTD coffee has made the overall market very dynamic and competitive. In terms of predominant marketing trends for RTD beverages, there is a current emphasis on strategic alliances, capital extensions, and mergers. Mergers in this market can be effective as they combine the worldwide scale, marketing proficiency, and effective distribution channels of a large organization with a smaller firm's expertise and coffee capabilities. Current players desire to increase their share of the global market by sharing innovative techniques. The bigger producers are looking for consolidation of their market positioning by thoroughly penetrating their varied distribution channels. These merchandisers through supermarkets and hypermarkets are basically controlling the distribution situation with RTD coffee. One prominent company now seeks to expand its presence into European, Asian, African, and Middle Eastern markets. Another major player will have its product available in the UK and supported by a marketing campaign including PR, digital, out-of-home, and sampling. Fortunately, the fragmentation of markets into sub-segments and geographical regions provide growth opportunities for independent, small scale, and private label brands. Also, online selling of RTD coffee will swell due to the enhanced convenience and massive popularity of e-commerce.
Risk of Microbial Contaminants
Very few things in life and industry are risk-free and that includes an organization adding new RTD coffee product lines. There is the potential for microbial contaminants and allergens to enter the process. As opposed to hot brew coffee, cold brew coffee does not have any heat in its processing. Cold brew uses room temperature water for an extended period of processing. This lack of a thermal process and sustained storage at ambient temperature creates a safety risk for cold brew. Furthermore, increased attention to food safety is needed once manufacturers combine that coffee with milk, milk alternatives, different flavors, and other elements such as sugar and sweeteners.
Production Process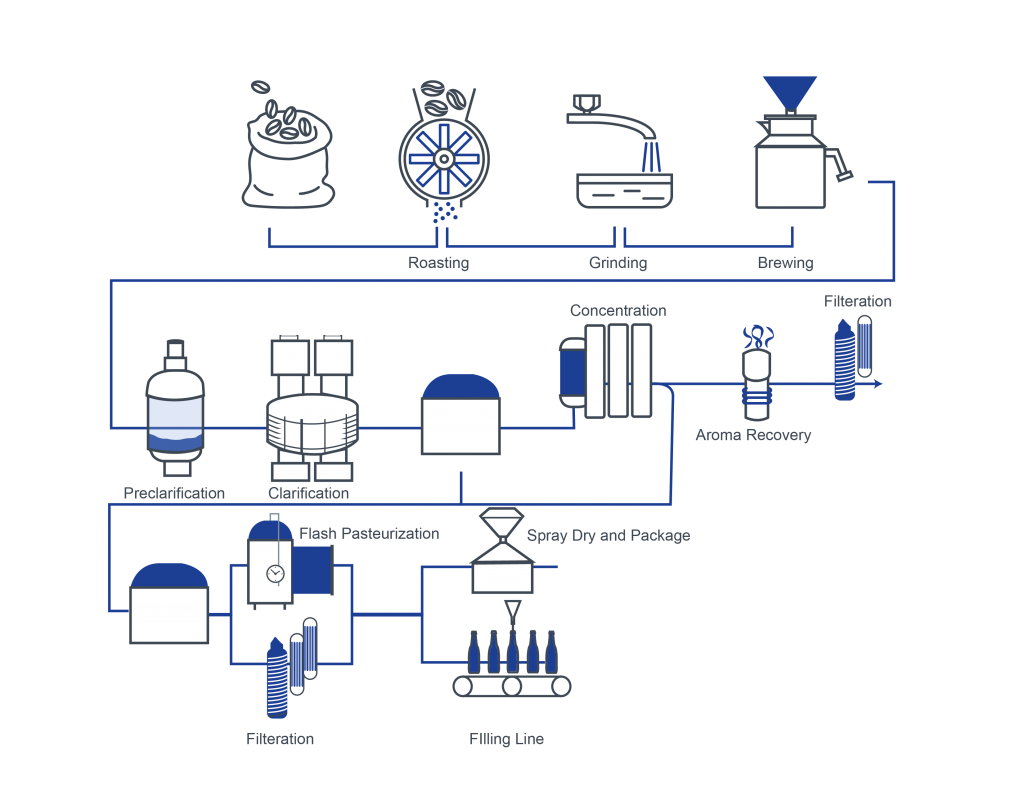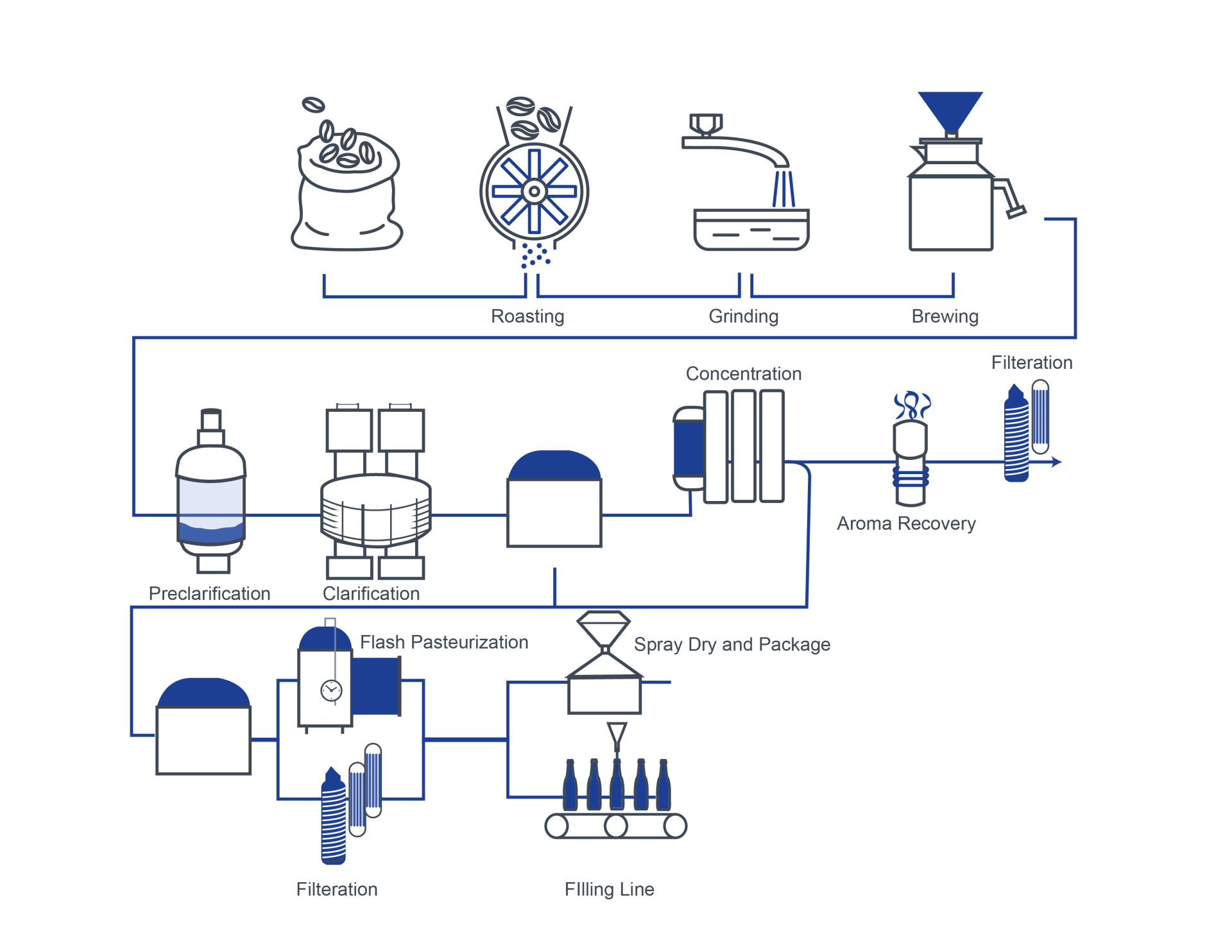 Per the Food Safety Modernization Act (FSMA) final rule, coffee brewers must put in place a written food safety plan that includes an analysis of hazards and preventative controls. Brewers of coffee need to have scientific data on hand, which shows the effectiveness of these preventative controls to stop the spread of pathogens. They also need to prove that their products are stable microbiologically when they are stored. Potential pathogens of concern in RTD coffee include Bacillus cereus, Clostridium botulinum, Listeria monocytogenes, Escherichia coli, Salmonella, and Staphylococcus aureus. Without proper processing, cold brew coffee can be a host of Clostridium botulinum spores which produce neurotoxins. Strict standards placed on low acid foods are preventative measures to maintain quality and control risk for C. botulinum contamination.
Validation of Products and Microbes for RTD Coffee Beverages

The Greater the Risk, the Greater the Reward
Although the ready-to-drink beverages are more challenging to develop and have more risk factors for the dairy processing operation, they offer higher profitability and an increase in market share compared to traditional dairy. Charm Sciences can help uncover the biggest threat to expanding your low acid UHT/ESL product portfolio.
About Charm Sciences
Established in 1978 in Greater Boston, Charm Sciences helps protect consumers, manufacturers, and global brands from a variety of issues through the development of food safety, water quality, and environmental diagnostics tests and equipment. Selling directly and through its network of distributors, Charm's products serve the dairy, feed and grain, food and beverage, water, healthcare, environmental, and industrial markets in more than 100 countries around the globe.