The market for nutritional drinks worldwide forecasts an accelerated growth rate over the next seven years. Reasons for this rise include a greater focus on health consciousness, minimizing chronic health issues, evolving drink preferences, hurried lifestyles, and increasing competition among industry participants. Nutrition drinks, offering a balance of taste and nutrition, deliver physical and mental stimulation along with instantaneous energy. Protein is a sought-after macronutrient for hardworking parents, aging seniors, and athletes. One protein receiving a lot of attention currently is whey protein. It is a dairy industry by-product that is an excellent nutrition source with many bioactive elements. The predicted market increase in these products creates many opportunities to invest in research and development.
Health Benefits and Market Segments of Nutritional Drinks
Nutrition drinks have a nourishing mix of protein, fat, and carbohydrates. The two primary types of nutritional drinks are shakes and formulas. Shakes assist people in meeting general dietary needs. Some shake formulations work well with health conditions like diabetes. Consumers suffering from persistent pulmonary disease, cancer, and advanced-stage kidney disease increasingly ingest supplemental nutritional formulas. Both types can be beneficial for consumers who have difficulties making balanced meals, have chewing problems, have a loss of appetite, or have an illness or surgery recovery. These will all be factors for growing market demand in the oncoming years.
Regarding desired nutritional ratios in an eight-ounce serving, health experts recommend 10 to 20 grams of protein. Also, experts recommend no more than 6 grams of fat and less than 40 grams of carbohydrate, including sugar. The market categorized nutrition drinks according to the type of application with three primary segments. They are bottled nutrition drinks, canned nutrition drinks, and bagged nutritional drinks. Of these three segments, bottled nutrition drinks have generated the most revenue in recent years.
Regional Markets for Nutritional Drinks
The nutritional drink market is divided regionally into North America, Europe, Latin America, Asia-Pacific, and Africa. The nutritional drink market is divided regionally into North America, Europe, Latin America, Asia-Pacific, and Africa. North America has exhibited substantial expansion in the last few years. The growth is due to an increase in implementing the latest technologies, a solid manufacturing infrastructure, and a rise in research and development activities. As for Europe, the United Kingdom, France, and Germany will display continual growth due to a sizable consumer base and the ongoing tendency toward natural nutrition drinks. Countries in the Asia-Pacific region will have a substantial share in the nutritional drink market with enormous growth predicted for the future. Aiding Asia's growth are online and offline distribution channels, increasing demand by athletes, and major investment in the region.
According to a market study report, in 2019, the worldwide nutrition and supplements market was valued at over USD 113.94 billion. The market is estimated to show a Compound Annual Growth Rate (CAGR) of more than 8.2 percent from 2019 to 2026. A survey by the Council for Responsible Nutrition showed that roughly 77 percent of people in the United States consumed dietary supplements. Leading the way was the 35 to 54-year-old age group in which 81 percent consumed the supplements.
Meal Replacements
Whey-Based Protein
Whey is a dairy industry by-product that is an excellent source of nutrition with many bioactive compounds. The whey protein makes up 20 percent of total milk protein and has substantial amounts of branched and essential amino acids, functional peptides,  immunoglobulins, and antioxidants. Whey can effectively combat an array of metabolic diseases, including hypertension, cardiovascular complications, cancer, diabetes, obesity, and phenylketonuria. It also stimulates gut physiology, helps with exercise injury recovery, and protects the skin from harmful radiations. Whey protein also encourages lean body mass and muscle growth, decreases oxidative stress, and hypoglycemia. The protein is a shield against ultraviolet radiation and reduces appetite. It also functions as a replacer of fat and is an emulsifier. (See Figure 1). Whey protein is currently more valued than soy, casein, and egg protein for its quick absorption and superior nutritional quality.
Figure 1 — Constituents and applications of whey protein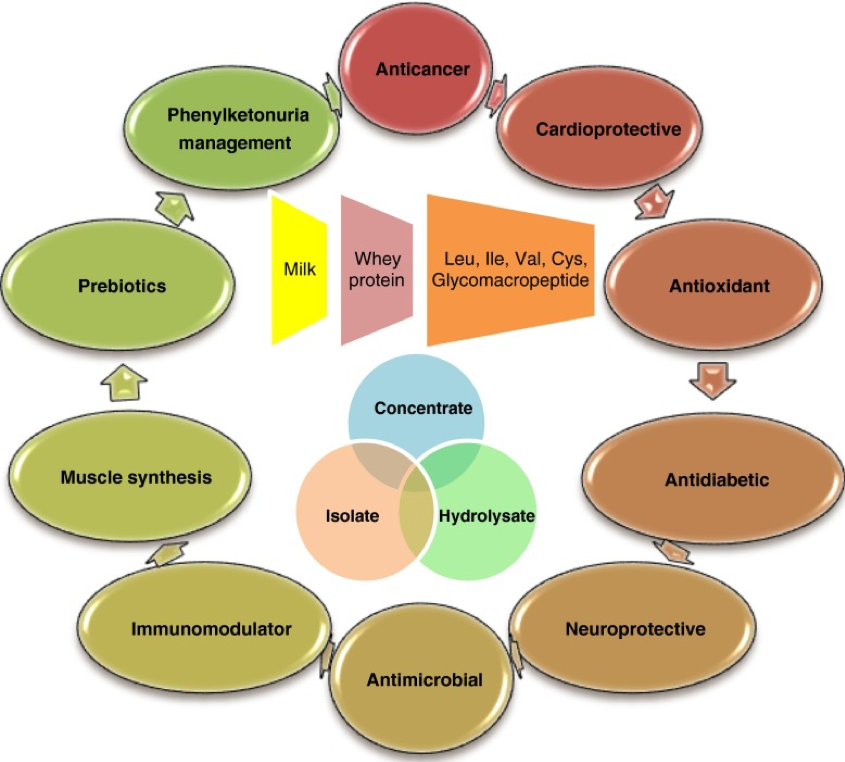 Whey proteins are frequently the favored source for ready-to-drink (RTD) protein beverages for their bland flavor, exceptional nutritional qualities, ease of being digested, and excellent functionality in beverages. For RTD beverages, whey protein concentrate and whey protein isolate are the protein sources. Adding whey proteins to dry mix beverages is familiar but creating RTD beverages with whey requires more technology. With RTD beverages, manufacturers cannot select any of the product aspects without considering the other parameters. The right balance of taste and nutrition is always a primary goal for these beverages.
Plant-based Protein
Another growing segment of the market features plant-based proteins. Powering this trend are specialty diets like ketogenic, paleo, and Whole30, which promote protein and fat over sugars and carbohydrates. A Grand View Research report estimated the protein supplemental market to be $12.4 billion in 2016 and increase at a CAGR of 6.3 percent from 2017 to 2025. People are increasingly trending toward plant-based diets as they perceive them to have significant health value. They put a high value on products that will give them a well-rounded amino acid profile without added sugars or artificial ingredients. Plant-based diets are also viewed as sustainable and good environmentally. Almond, soy, and rice milk are the most well-liked alternatives to traditional dairy milk, but each of these has its limitations. One recent alternative milk source that is gaining attention is yellow peas.
Plant-based Taste and Nutrition
Taste is the primary reason why Americans consume plant-based protein (52 percent). From a survey of 1,876 U.S. internet users over 18 who intake plant-based protein, taste outranks health (39 percent), the environment (13 percent), animal protection (11 percent), and diet considerations (10 percent). These consumers are motivated by improving their health and well-being.
Making up this segment of plant-based consumers are those who wish to avoid processed food (39 percent), manage their weight (31 percent), and increase their muscle growth (16 percent). However, price is a deterrent for 64 percent of Americans ages 18 to 34 who think that plant-based foods are more expensive than other foods, compared to 57 percent overall. People falling in the 18 to 34 group believe the brand name is important compared to 40 percent of overall consumers. The involvement of major brands somewhat offsets the expense concerns regarding plant-based products. Plant-based protein consumption seems to be more of a complement to meals rather than perceived as a complete replacement. The biggest challenge remains to find the right balance between taste and nutrition.
Conclusion
With such a wide array of formulations and options in adult nutrition beverages entering the marketplace, assuring the quality of these beverages can prove challenging for many manufacturers. The challenges presented by the novel protein sources utilized in adult nutrition beverages require heightened awareness and focus on allergen management programs. These challenges also require facility-wide sanitation verification processes, raw ingredient evaluation, environmental monitoring, and finished product testing protocols.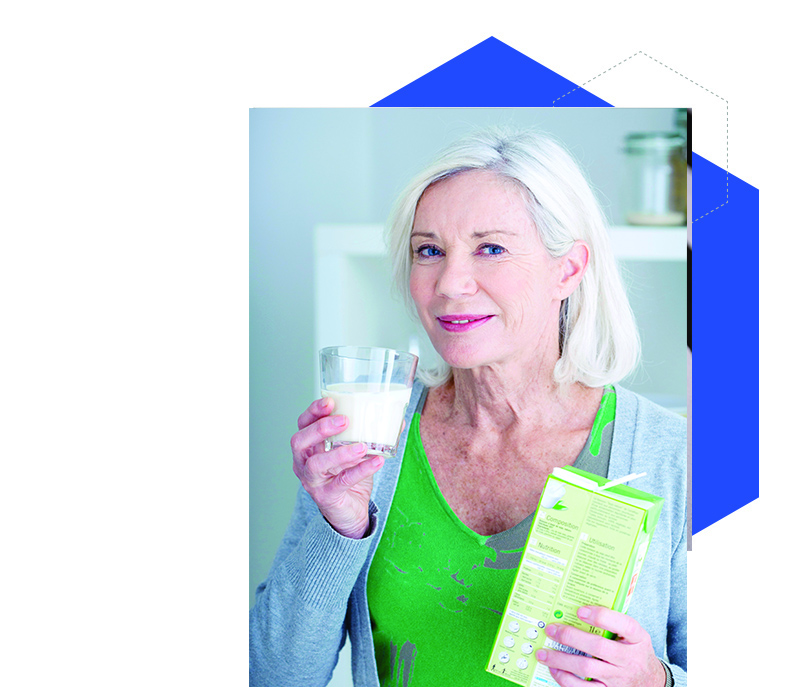 Charm Sciences can assist and support the quality assurance and food safety programs required to meet consumer demands and expectations of manufacturers expanding into the adult nutrition marketplace. Our ATP swab testing solutions are easy to use and provide fast results when verifying sanitation and allergen remediation processes. Charm's microbial test support your evaluation of raw ingredients and EMP programs. Our EPIC rapid microbial ATP detection system quickly and efficiently screens finished product to assure shelf-life and verify commercial sterility in UHT, ESL, and Aseptic finished adult nutrition products.
Although ready-to-drink adult nutrition beverages may be more challenging to develop and present unique risk factors in manufacturing, they offer high profitability and the opportunity for increased market share.  Charm Sciences can help mitigate these risks and meet these challenges head-on as a manufacturer expands into the adult nutrition marketplace.
About Charm Sciences
Established in 1978 in Greater Boston, Charm Sciences helps protect consumers, manufacturers, and global brands from a variety of issues through the development of food safety, water quality, and environmental diagnostics tests and equipment. Selling directly and through its network of distributors, Charm's products serve the dairy, feed and grain, food and beverage, water, healthcare, environmental, and industrial markets in more than 100 countries around the globe.