ROSA FAST Aflatoxin Quantitative Test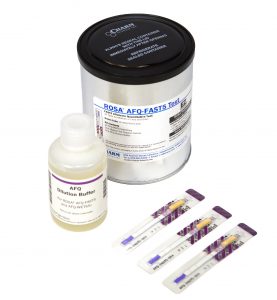 In three or five minutes, the ROSA AFQ-FAST test enables feed and grain producers to quantitatively detect aflatoxin. This Rapid One Step Assay is a quantitative lateral flow test that is read in the Charm EZ-M system or the ROSA-M Reader. Samples are extracted with 70% methanol.
The ROSA AFQ-FAST test has been approved by USDA-FGIS (Federal Grain Inspection Service) for the following commodities:
Barley
Brown Rice
Corn Germ Meal
Corn Gluten Meal
Corn/ Soy Blend
DDG (Distillers Dried Grain)
DDGS (Distillers Dried Grain with Solubles)
Hominy
Millet
Oats
Popcorn
Rough Rice
Rye
Sorghum
Soybeans
Soybean Hulls
Soybean Meal
Soybeans
Wheat
The ROSA AFQ-FAST test has been validated by Charm for the following additional commodities:
Corn Bran
Copra Meal
Corn Gluten Feed
Corn Silage
Cottonseed Hulls
Cottonseed Meal
Ginger Root
Milled Rice
Palm Kernel Meal
Peanut Hulls
Peanut Meal
Rice Bran
Whole Cottonseed
Benefits
Quantitative results in 3 minutes for corn, 5 minutes for other commodities
USDA-FGIS approved for corn and 18 other commodities
Charm validated for 12 other commodities
Quantitation range is 5 to 30 ppb for the first dilution; 20 to 100 ppb for the second dilution
Extract sample with 70% methanol (some commodities require 84% acetonitrile)
Uses same equipment as other ROSA grain tests
Regulatory Info
USDA-FGIS Approved for corn and 18 other commodities
Meets regulations for humans, immature animals, and dairy animals of 20 ppb
Meets regulations with dilution, for breeding cattle, breeding swine, and mature poultry of 100 ppb
Meets European Union regulations for maize subjected to sorting or treatment of 5.0 ppb
The AFQ-FAST Test is easily read on:
Have a sales question? Send us a message and a sales representative will contact you.