Fotometric Instruments Exhibits and Meat and Milk 2016
Fotometric Instruments, the Charm Sciences distributor in Romania, exhibited at Meat and Milk 2016 exposition in Poiana Brasov, May 12-13.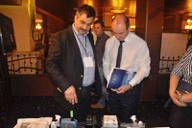 The Minister of Agriculture visited the booth to discuss modern means of fast testing for antibiotics and aflatoxins in milk. Fotometic Instruments demonstrated the Charm EZ Lite system and the 1 minute MRL Betalactam tests, along with the newest sanitation testing equipment, including ATP swabs, and the novaLUM II ATP detection system, which provide full traceability of results. The Minister commented that he appreciated Charm Sciences technologies for food safety.
About Charm Sciences
Established in 1978 in Greater Boston, Charm Sciences helps protect consumers, manufacturers, and global brands from a variety of issues through the development of food safety, water quality, and environmental diagnostics tests and equipment. Selling directly and through its network of distributors, Charm's products serve the dairy, feed and grain, food and beverage, water, healthcare, environmental, and industrial markets in more than 100 countries around the globe. https://www.charm.com