The Only One Step, 3 Minute Antibiotic Test for Milk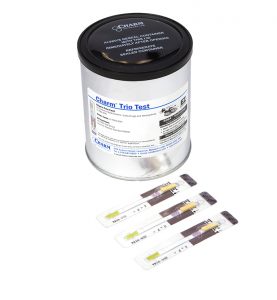 TRIO is a single, 3 minute one step antibiotic test that can help you lower operating costs and improve transportation efficiency by clearing good milk quickly. Incorporating ROSA (Rapid One Step Assay) lateral flow strips to detect aflatoxin M1 and the most common antibiotics, the Charm TRIO test can be run by farmers, veterinarians, truck drivers, milk receiving, and milk testing laboratories because of its speed, ease of use, portability, and minimal equipment requirements.
You can now prevent unnecessary rejection of milk caused by overly sensitive screening tests with ROSA's patented technology that targets drug sensitivities as close to regulatory levels as possible.
The Charm TRIO Test detects beta-lactams, sulfonamide, and tetracycline drugs at or below the US Tolerance levels and Canadian MRLs (maximum residue limits). The Charm TRIO test is the first combination antibiotic test approved by US NCIMS (National Committee of Interstate Milk Shipments) and FDA for screening of raw commingled milk.
ROSA tests are easy to perform and are manufactured to test for US tolerance levels, EU MRL/CODEX, Canadian MRL's and multiple other country-specific requirements. Charm ROSA tests have been granted approval by regulatory authorities around the world.
You can read Test results from the Charm TRIO test and officially recorded using the Charm EZ system, or the Charm EZ Lite system.
Benefits
US NCIMS/FDA approved for Appendix N testing
Detects beta lactams, sulfonamide and tetracycline drugs in a single one step assay
Test time: 3 minutes
Meets EU/CODEX and Canadian MRL's
Uses same Charm EZ Reader system as other ROSA antibiotic family tests
Regulatory Info
Detects beta-lactams, sulfa drugs, and tetracyclines at or below US Tolerance Level and Canadian/EU/CODEX MRL.
AOAC-RI Approval #121601
Have a sales question? Send us a message and a sales representative will contact you.