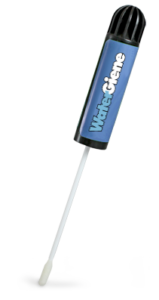 Charm WaterGiene is used to test the sanitation of water, including CIP water, rinse waters, and cooling water. WaterGiene measures water cleanliness in 20 seconds by measuring total ATP. High ATP levels indicate that microorganisms, food, and other biologicals are present in the water.
Water quality is measured by dipping and twirling a WaterGiene swab in the water sample or by swabbing a rinsed surface.
WaterGiene is used by food processing plants to test process water, pipes, and tanks/silos. Hospitals and surgical centers use WaterGiene to verify equipment is clean.
Benefits
Results in 20 seconds
Enables immediate remediation
Accurate readings with novaLUM luminometer
The WaterGiene Swab is easily read on:
Are You Looking to Improve Your Product Quality or Shelf Life?
If so, have a confidential conversation with one of our food safety and industry specialist today to discover where your challenge might be—and how we can help you fix it.