Charm MRL Beta-lactam 1-Minute Test (MRLBL1)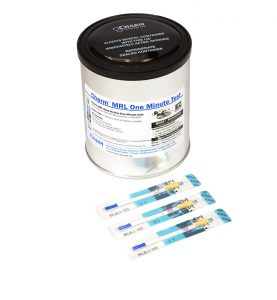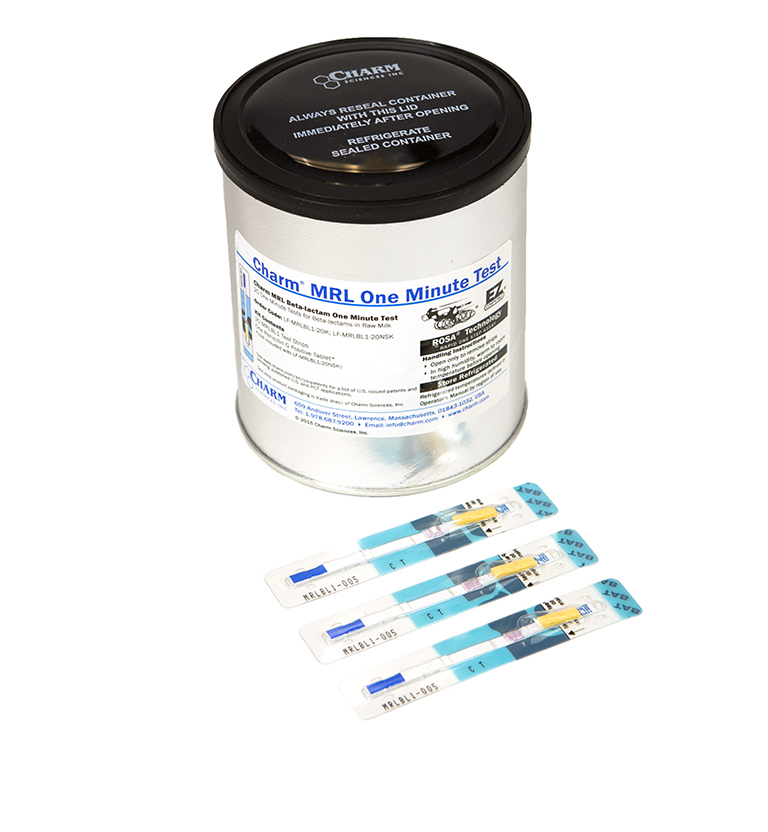 In one minute, the ROSA MRLBL1 test, detects 13 beta-lactam drugs in milk at or below EU and CODEX maximum residue limits. The Charm MRLBL1 test uses the Charm EZ system, which incubates and reads the sample in one step. This allows dairies to expedite production as negative milk can be cleared in just one minute.
The system is fast, easy to use, and portable and can be run by farmers, veterinarians, truck drivers, milk receivers, and milk testing laboratories.
A sample of milk is applied to a MRLBL1 lateral flow strip, and the EZ system incubates the strip and displays the test result. The EZ system can be set up to run in a vehicle or to transmit data to a LIMS system.
Lower operating costs and improve transportation efficiency by clearing good milk quickly with the Charm ROSA (Rapid One Step Assay) lateral flow strips which detect aflatoxin M1 and the most common antibiotics used to treat dairy cows. ROSA tests use patented technology to target drug sensitivities to safe and regulated levels, which prevents unnecessary rejection of milk caused by overly sensitive screening tests. The tests are easy to perform and are manufactured to test for US safe levels, EU MRL/ CODEX/ Customs Union maximum residue limits and multiple other country-specific requirements. Charm ROSA tests have been granted approval by regulatory authorities around the world.
Test results from ROSA strips may be read and officially recorded using the Charm EZ system, or the ROSA Pearl-X Reader, or may be interpreted visually in an unofficial capacity, making it ideal for farm use.
Benefits
Detects 13 primary beta-lactam drugs at or below EU and CODEX MRL
Results in 1 minute
Uses same equipment as other ROSA tests
Results can be read on the Charm EZ system
Regulatory Info
Detects 14 primary beta-lactam drugs at or below EU and CODEX requirements. Central Reference Laboratory (CRL) guidelines available upon request.
Approved by Polish Veterinary Research Institute (PIWET)
Validated by ILVO, Institute for Agricultural and Fisheries Research, Belgium
Industry 4.0-Management of Milk Collection Vehicles at Germany's Largest Dairy Group
At the plant in Altentreptow, Germany – DMK makes use of the EZ System from Charm Sciences Inc, USA. The EZ System, is a combined incubator and reader making quick work of antibiotic and aflatoxin M1 testing in milk, providing reliable and rapid testing results.
Charm ROSA antibiotic test results are available to the network communication system via the OPC Router software, which includes laboratory and technical systems. The OPC Router automatically allows truck clearance at the receiving station if the raw milk is tested negative. If the milk samples are tested positive, the milk is not cleared at the pump station and cannot be unloaded. The contaminated milk will need to be retested or disposed of elsewhere following local rules and regulations.
Are You Looking to Improve Your Product Quality or Shelf Life?
If so, have a confidential conversation with one of our food safety and industry specialist today to discover where your challenge might be—and how we can help you fix it.