Are you looking for a simply more effective ATP test kit?
Learn how a major U.S. food processing plant reduced pathogen positive hits by 99%
Create your own successful sanitation program that works!
The plant manager of a major U.S. food processing plant is able to "sleep better at night" now that they have reduced pathogen positives in Zone 3 using a sensitive ATP test.
Stop experiencing major disruptions caused by higher-than-desired positive pathogen results by responding in real-time.
It should be easy to keep your environment clean and to keep your customers safe while avoiding recalls.
However, we hear time and again that surfaces aren't clean enough and that plants have to pause operations.
Unfortunately, this happens to many processors because they rely on sending samples out to third party labs, creating delays of 2, 3 and sometimes 5 days or more for results.
It's tough. You want to protect your product (AND those counting on you) from unwanted pathogens as quickly as possible.
You need to keep operations running.
You have to have a clean and safe environment.
And you want to have an effective sanitation program that employees can successfully and easily follow.
If this sounds familiar, we can help.
You can now create a successful sanitation program that works the way you do—in real-time—based on our ultra-sensitive, 5-second PocketSwab® Plus ATP test and novaLUM® II-X ATP Detection System.
With the 5-second ATP test, your sanitation team can:
Proactively get in front of FSMA to reduce pathogen positives and control sanitation in Zone 2, 3
Release production lines faster at pre-op
Identify and correct issues in real-time
Focus on producing high-quality finished product, improve shelf life
Imagine the feeling of reducing pathogen positives, response time, AND cost—all with one simple and easy-to-implement ATP solution.
And imagine that you can have this in place in ONLY 4 weeks.
Sound impossible?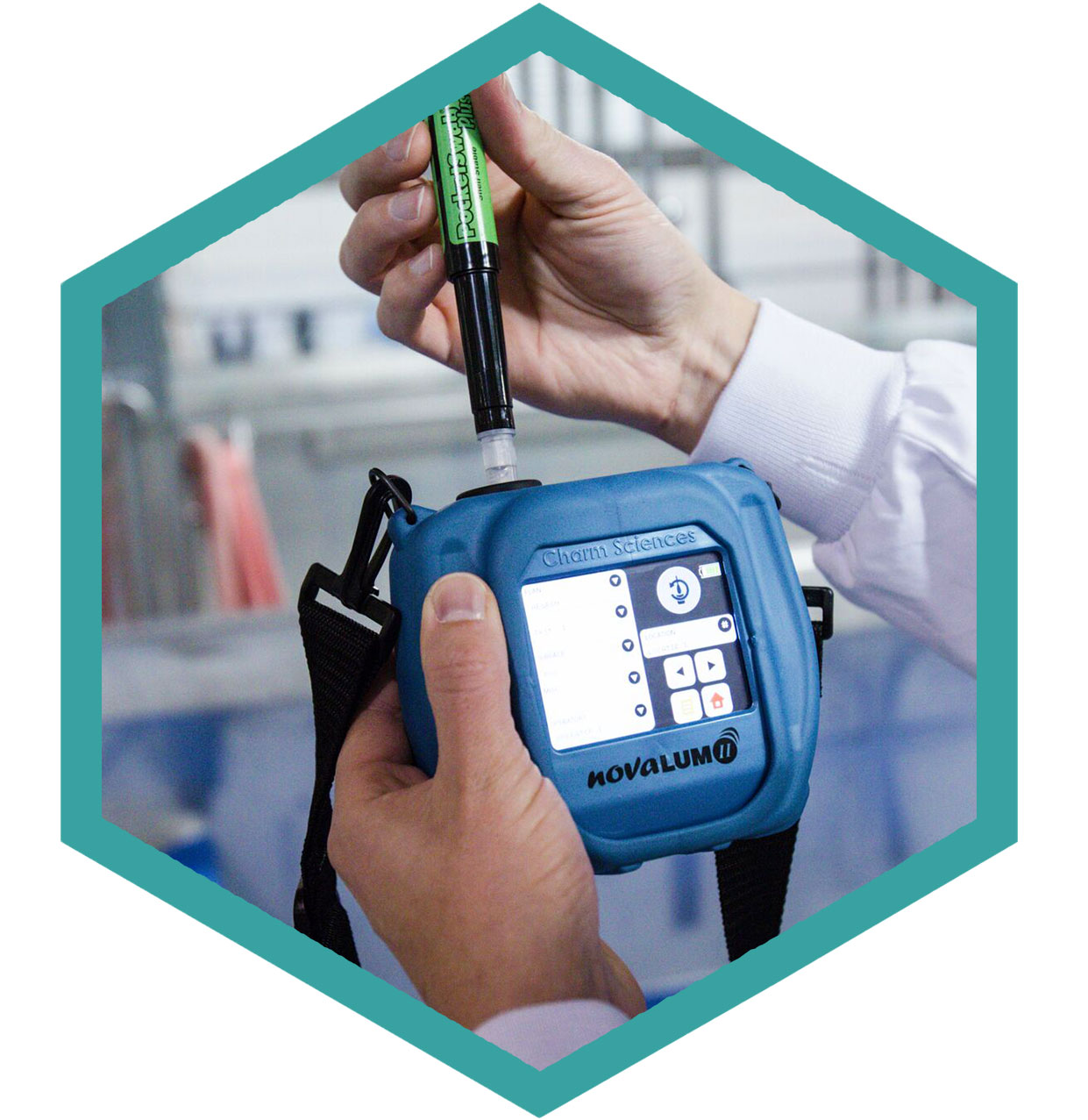 One major U.S. food processing plant was able to do all of this—while saving about $72,720 a year.
For 40 years, we've developed cutting-edge food safety solutions that help food processing plants around the world develop advanced food safety programs, solve food safety-related issues, improve product quality and reduce microbial challenges in the factory due to effective sanitation monitoring program.
Learn how we put this know-how to work in solving one of the most troublesome pieces of running a safe and efficient food operation by reading the case study.
Take real-time, corrective action in only 5 seconds
Implement proven pathogen control in only 4 weeks
In the first 6 months running, XYZ Food Co has 0 positive pathogen hits
When you run our sensitive ATP test, you'll…
Protect your brand with effective sanitation monitoring
Document results for sanitation verification
Eliminate false negative results
Respond to issues in real-time
Have confidence in your sanitation program
How quickly and easily you get results with our 5-second ATP test.
Learn how a major U.S. food processing plant reduced pathogen positive hits and reduced cost by about $72,720 a year with our ATP test.
Learn how they were able to "clean up" their sanitation process, instill confidence in their sanitation monitoring program, and empower employees to manage issues in real-time with our 5-second ATP test.